One of the Albert Einstein facts that everyone knows is his scientific formulation of E=mc2 and that he was a mega-genius with a quirky sense of humor. But even geniuses have weird ways of thinking and Einstein was no exception.
---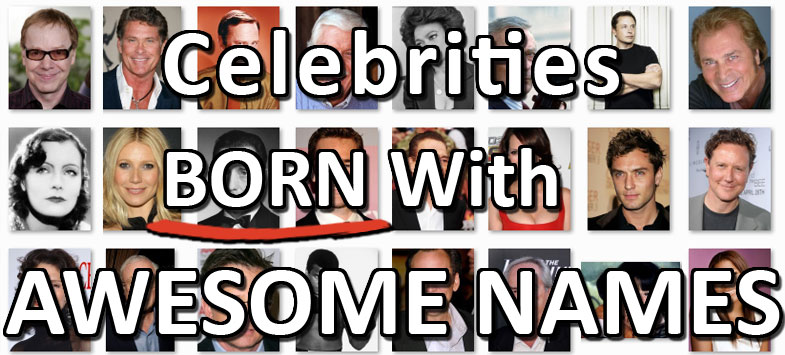 In the world of business or entertainment, printing your ordinary name on a business card looks like you're handing out a sample from the printing company. That's one reason why celebrities use a stage name to make themselves seem more interesting. The luckiest of us who are born with awesome real names don't need to worry so much. Take a look at some famous names you thought were stage names, but are in fact real birth names.
---
Using a stage name has become common place and quite often the famous names we've grown to know and love are not the celebrity's real names at all. In the world of entertainment and business, perception matters and your name can have a large impact on first impressions. Thank your parents if you were born with an awesome name. For the rest of us, celebrities included, a stage name or pen name could make the world of difference.
---
If you find yourself getting sleepy at your desk by 3 P.M., drinking green tea is a far better choice than coffee if you're looking for a quick pick-me-up. Matcha green tea, a finely-milled green tea powder, is full of beneficial antioxidants found in green tea leaf that improves health and well-being. Even if you don't like tea, drinking matcha tea as part of a healthy diet is recommended.
---
Blogging is a great way to show off your expertise, hock your products and services or earn a bit of money through display advertising. Many bloggers who are starting out want to know how to grow their blog's audience, while playing a game of trial and error.
---
Google makes ten of billions of dollars each year by selling advertising, not just in it's search results but also across millions of other websites with their AdSense program. Bloggers and website owners are earning revenue through advertising by employing tried and tested techniques to maximize their commissions. Learn how they're doing it.
---
If you're anything like me and have a few of your own amazing business cards tucked into your wallet or handbag, you'll be ready to whip one out any time you meet a new prospective client. We've had it drummed into our heads that first impressions count, so think about your own impression when you're handed ultra budget business cards or one with an awful design. Read on to make sure your business card design doesn't suck.
---
Windows keyboard shortcuts are savior of the lazy and mastered by the savvy, but only conquered by the nerdiest of nerds… and cats. Knowing just a few of these keyboard shortcuts will save you a lot of precious time and energy.
---
A recent study found a sure-fire way to increase blog traffic when an interesting trend emerged while analyzing reader engagement. Certain words used in blog headlines decreased the likelihood of the link getting clicks. Read on to find out which words had a negative impact on click-through rates.
---
Coming up with unique birthday quotes for friends, family and colleagues can become a real head scratcher. Not a year goes by without several birthday quotes and best wishes to write on cards, so here's a bit of help for you to add some flair, personality and humor to your birthday card.
---